These are the books released in the last week:
For All The Evers by Debra Anastasia – December 18th 2016 – Military Man! He is fighting for his country.
Synopsis:
Fallen Billow should be in college like most of her friends, but instead she's raising her brother and working as a housekeeper at a vintage local hotel. It's back-breaking work, but not nearly as challenging as fending off unwanted advances from the hotel's owner.

Thomas McHugh is fighting for our country, across the globe and decades before Fallen Billow was even born. So there's no way they're soul mates. There's no way he can be desperate to see her, hold her, kiss her. Except there is.

Is it a dream when he inks his name on her skin? Is it a delusion when she puts her hands on his face and says she loves him? Nothing has ever felt more real.

Fate has etched paths for Thomas and Fallen that even time cannot touch. A Purple Heart proclaims Thomas' valor and bravery. And his death. But Fallen dares to dream of the impossible. She wants Thomas to stay. Just stay.

A tribute to all who have served our country, this novel honors the impossible beauty of love and the endless power of hope. Come open your heart and celebrate the many facets of bravery with Fallen and Thomas.
Walking Wounded by Lauren Gilley – December 17th 2016 – I loved this author's Dartmoor Series (Biker MC). That is one of my favorite Biker MC books. Since I'm a huge fan of Biker books, I recommend this book to fellow readers that love Biker books.
Synopsis:
Luke always thought he'd grow up to be a famous author. He also thought nothing could ever damage his relationship with his childhood best friend, Hal. He thought a lot of things that proved to be untrue. Now he barely makes rent and proofreads articles at a New York gossip rag, dreaming about what-might-have-been. He's not bitter about it. He's not. And he certainly isn't lonely.

Will Maddox – Korean War vet, unapologetic curmudgeon – is the father of a controversial young US Senator, and he's in trouble with the law after striking someone outside a charity event. In Luke's eyes, he's just a senile old man with anger management issues, and he has no idea why his editor would send him to DC to interview him. He flies down from New York thinking he'll stay a day, expecting an epically boring assignment.

The catch? Hal works security for the Maddox family. And he's really excited to see Luke after three years apart. And Luke is still really, hopelessly, desperately in love with his best friend. Luke's about to learn there's a big difference between expectations and reality. And this interview just might be the best thing that's ever happened to him.

A book about the bravery of ordinary people, and the wounds they carry.
Hitched (The Complete Series) by Kendall Ryan – December 17th 2016 – I read the first book of this series and it was great. I could not stop laughing. I recommend this series if you are in the mood for a sexy filled with hot and humorous moments. 😀
Synopsis:
 I have to get my wife pregnant. I know what you're thinking, boo hoo, poor me, right?
The only problem is my darling wife hates my guts. The only reason we eloped was because our fathers, who are business partners, are jointly leaving us their $100 billion company. If we wed.
And she doesn't know this part yet, but it's contingent on us producing an heir. I have 90 days to knock her up, which might be difficult considering she can't stand to be in the same room as me, let alone share my bed. Challenge accepted.
Mark my words, I will have her begging for me. I've never backed down from a challenge and I'm not about to start now.
Naughty Boss by Whitney G. – December 16th 2016 – This author is new to me, but I saw she got lost of love from readers. If you are in the mood to a sexy, hillarious short story, this one is for you.
Synopsis:
He definitely wasn't supposed to get that email…

Subject: My Boss.

Have I already told you that I hate my boss today?

Sexy as hell or not, this pompous, arrogant, ASSHOLE asked me to pick up his dry cleaning the second I walked through the door. Then he told me that I needed to take his Jaguar to a car wash that was ten miles outside of the city, but only after I needed to stand in a never-ending line to buy some type of limited, hundred-dollar watch.

I honestly can't wait to see the look on his face two months from now when I tell him that I'm quitting his company and that he can kiss my ass. KISS. MY. ASS.

All those former fantasies about him kissing me with his "mouth of perfection" or bending me over my desk and filling me with his cock are long over. OVER.

Your bestie,
Mya

PS–Please tell me your day is going better than mine…
Devil's Vengeance: Sydney Storm MC by Nina Levine – December 15th 2016 – Another biker book from Nina Levine. If you are in the mood of "the panty-melting sexiness and alpha goodness" (the author's note), this one is for you. Wow sounds yummy! 😀
Synopsis:
I know she's forbidden.
I've been warned.
But I'm in too deep.

Hailee Archer was mine the minute I met her and there's no way in hell I'm giving her up.

Our club is at war, though, and her brother is our greatest ally.
He's made it clear he doesn't want me anywhere near her.
He's threatened to walk away from our club if he doesn't get what he wants.

What he doesn't know about me is that I'm a stubborn bastard.
I will fucking fight to the bitter end for my family.
He wants to threaten me?
He can go right the fuck ahead.
He doesn't stand a chance.
Jaded Hearts (Loaded Replay Book 1) by Harper Sloan  – December 13th 2016 – Love triangle!
Synopsis:
24 year-old Jade Spencer is at a crossroads. She has spent her entire life living under the shadow of someone else's rule. First, her controlling grandmother, who unwillingly inherited the job of raising her and her brother Drew. Then, her fiance Evan, who was also controlling. Notice a theme? Now she is ready to live life by her own rules. She breaks it off with her shady fiance, and packs her bags for good. What better place to follow your dreams and desires than New York City?
With help from her Aunt Vivian; her cousin Jackie; a new place; new job, and new experiences waiting, she intends to live life to the fullest. But, things turn tricky when two fated encounters both lead to powerful emotions. Julian Garza is the most desirable, and haunting man Jade has ever met. He sets her on fire from their very first chance encounter. Jade finds him totally irresistible, and promptly falls under his spell. But there is a dark shadow attached to Julian that leaves Jade hesitant, and has her aunt telling her to run. John Benson is the perfect man. A handsome, successful lawyer; John provides a friendship like no other, and a love that Jade has never known. For the first time she feels truly loved, but we all know there is no such thing as perfect.
So you have a not so classic love triangle, with a hint of mystery. What could possibly be the problem? Jade doesn't believe in love, and lives by denial. Being abandoned by her mother at a young age has left her with a hard shell around her heart, an an even harder time letting her feelings show. As she tries to find herself through her new relationships, Jade learns the hard way that sometimes intentions mean everything, and nothing at all. Will she find love or will she leave a trail of jaded hearts? Love, secrets, and lies are all on the menu.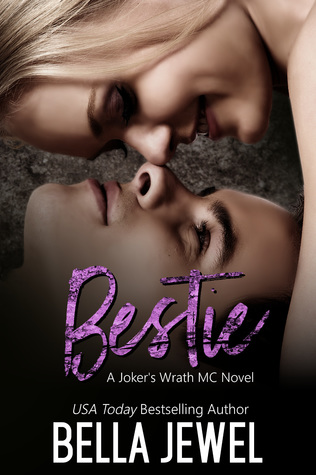 Bestie: Joker's Wrath MC by Bella Jewel – December 13th 2016 – Another Biker (MC) book by the queen of MC books, Miss Jewel. This one sounds different!
Synopsis:
The universe works in mysterious ways.
Well, it did for me, anyway.
It was like it knew that I needed him.
It put him in my life during a time I honestly thought I couldn't go on.
He was broken. I was broken.
We only had one thing to offer each other – friendship.
A true, deep, incredible friendship.
Laughter fixed us.
Talking bonded us.
He quickly became my everything.
This is our story.
I can't promise it's always perfect.
It might make you laugh.
It might make you cry.
It might even make you fall in love.
It's real.
It's ours.
It's us. Besties.