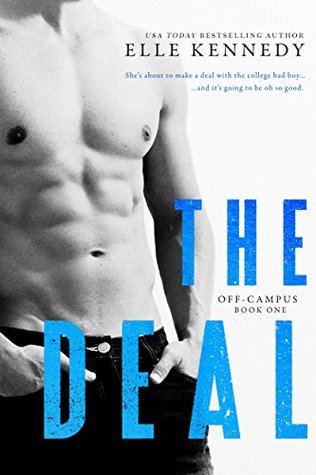 Even though I've read this series a while back, I've just had the time to write a review about it now. This series is hands down one of my favorites. LOVED it. The Deal (book 1) is my introduction to Elle Kennedy's writing. And she blew me away. What a story. This series has a YA and NA, as well as Adult feelings. The setting is in college. The characters are youngsters. However, their stories are far more than that.
I don't want to say anything that will reveal the story and give you the spoilers. I know a lot of us love to have the stories surprise us. So, this is a spoilers free review. In case you don't know, I love bad boys. I don't mind having lots of love scenes as long as they serve the whole story. Guys, this series has everything I love in college romance: I want them to be realistic and believable, but carry beautiful love stories.
If you love Beautiful Disaster, this series is for you. The heroes are popular guys at school while the heroines are the average girls (sort of). I can feel Travis here and there (fyi, I love Travis). Although the stories are not heavy, it has special, touching, gut wrenching moments here and there. The romance was AMAZING. I have to stop at times to catch my breath because of the emotions of the stories.
Aside from that, these stories have lots of funny moments that make me laugh out loud. Elle Kennedy's writing is fantastic. She managed to guide me through heavy and light emotions while keeping them fresh. I cannot stress enough how great this series is. You can read them not in order, since they can be read as a standalone. However, if you want to have the best experience with these stories, I suggest that you start from book 1.
Do I have favorites out of these 4 books. Yep I have. My most favorites are The Deal (book 1) and the Score (book 3). I love Garreth and Dean! However, the other books are great as well. Book 1 and 3 are 5 stars, book 2 and 4 are 4,5 stars. But overall 5 stars from me.